Best Buy shares fall after reporting sales decline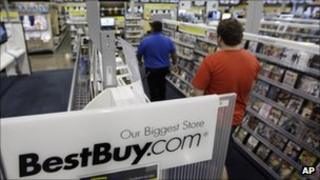 Shares in US electronics retailer Best Buy have fallen 7% after it reported another decline in sales.
Excluding new store openings, its US sales fell 2.7% in the three months to 27 August from a year earlier, the fifth quarterly decline in a row.
As a result, Best Buy said it now expected its full-year profits to be only as high as $3.45 a share, down from its previous forecast of $3.55.
It has been hit by the slowdown in US consumer spending.
Best Buy has also faced tough competition from Wal-Mart and Amazon, which have been able to beat its prices.
The company said its global sales had declined even further, falling 3.2% during the quarter.
Best Buy currently has 11 stores in the UK in partnership with Carphone Warehouse.
"Looking at the big picture worldwide, we're still facing an uncertain macro environment with volatile consumer shopping behaviour," said Best Buy's chief executive Brian Dunn.
The company has more than 1,000 stores in the US.