Next profits rise despite 'perfect storm' for retailers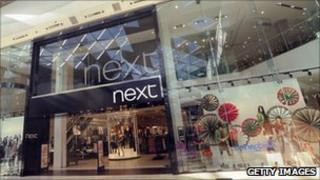 Next has reported a rise in half-year profits, but says the retail sector has faced a "perfect storm" this year.
It said increases in VAT, food and fuel inflation, government cuts and stagnant wages had squeezed consumers.
However, pre-tax profits for the six months to 30 July rose 8.5% to £228m.
Next said prices were 7% higher in the first half and would be 8% higher in the second, but said it did not expect to raise them in the first half of 2012 as cotton prices had fallen sharply.
Cotton prices are now 50% below the peak reached in March, Next said.
'Difficult year'
Next chief executive Lord Wolfson said the company had faced its first concerted cost price rise for 20 years.
The VAT rise and higher cotton prices had helped to push selling prices up by 7% in the first half of the year.
Sales at the company's 500 stores in the UK and Irish Republic were down 1.8%, but it had seen a 15.1% jump in sales at its online business, Next Directory.
Lord Wolfson said: "In a difficult year, Next has proved resilient. In many ways 2011 has presented the perfect storm to the retail economy."
Next said it now expected underlying pre-tax profits of £545m-£590m for the full year, slightly higher than previous forecasts.
Among the uncertainties hanging over the business were the problems in the eurozone.
Lord Wolfson said he had not factored in any shocks from a deterioration in eurozone finances, which he said represented "the biggest unknown risk" to his business.
Investors welcomed Next's results, and in morning trading were 6% higher.
Richard Hunter, head of equities at Hargreaves Lansdown Stockbrokers, said the figures were "a rare ray of light in the retail sector".
He added: "It is of little surprise that the shares have bucked the downward trend which the market has encountered of late. Over the last six months, Next has risen 23%, as compared to a drop of 10% for the wider FTSE100."