Barratt Developments hails 'year of recovery'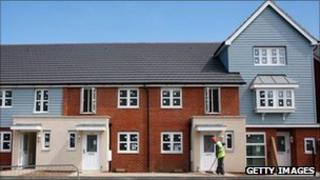 Barratt Developments, the country's largest homebuilder, says it has had its best result in three years helped by a rise in average selling prices.
It reported a pre-tax loss of £11.5m for the year to June, including £54.2m of exceptional charges relating to financing and reorganisation.
Stripping these charges out, the company made an underlying profit of £42.7m for the year to June.
Its average selling price rose 2.3% to £178,300.
Barratt said it expected to make further progress in a tight UK housing market.
The company's chief executive, Mark Clare, said: "This has been a further year of recovery for the group.
"We have made considerable progress in rebuilding profitability - by optimising selling prices, improving operational efficiency and securing new higher margin land."
The company said the mortgage market was holding back demand for newly built properties, saying that there was a limited number of lenders and that borrowers were typically being asked for a 20% deposit, rather than a 10% deposit for older properties.
It said the outlook for the housing market remained challenging, particularly outside London and the south east of England.