Japanese car firms defy tsunami paralysis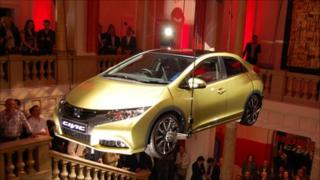 The massive earthquake which hit Japan on 11 March this year set off a deadly tsunami that devastated large parts of the country and killed thousands of people.
It also crippled the nation's giant motor industry, largely because many all-important component manufacturers that were based in the devastated north-east of the country were destroyed.
Carmakers, both in Japan and around the world, had been expected to suffer parts shortages at least until the end of this year.
But such predictions underestimated the efficient determination of the country's people and companies.
"The resolve of the Japanese people is incredible," says Andy Palmer, executive vice-president of the Nissan Motor Company.
"The discipline has been tremendous. The whole incident just gelled the whole country, gelled the industry. The speed of the recovery speaks for itself."
'Fully recovered'
Six months on from the disaster, Japan's giant automotive groups are back in action, showing off their latest models at the Frankfurt motor show as if nothing had ever happened.
"If you were to ask me in April, I'd have said it'd be impossible," says Didier Leroy, chief executive of Toyota Motor Europe.
"Yet all our European operations returned to normal in June, and from July it was full speed ahead - and it was the same in Japan."
Nissan and Honda's recoveries have also been swift.
"We've fully recovered and we're now starting to fulfil back orders," says Nissan's Mr Palmer.
At Honda, its UK managing director David Hodgetts reports that his factory in Swindon in the UK "is back up and running now, literally from last week, for the first time since April".
"We're working four or five day shifts now and will go to six days soon," he adds.
Relationships
The carmakers were facing massive challenges, so they responded by joining forces.
Take the devastated chip maker Renesas, on which most carmakers around the world rely for various semi-conductors and other electronics components.
"The reason why it recovered so well was because Japan's auto industry sent 2,000 engineers to rebuild its factory," observes Honda's Mr Hodgetts, "so they recovered much quicker than they had thought they would."
According to Nissan's Mr Palmer, the crisis "tested the robustness of the supply chains. It's tested the relationships with the suppliers."
And it proved that in times of crisis the only way is up.
"We compete with the likes of Toyota and Honda, but in times of trouble we co-operate," says Mr Palmer.
"We worked very closely with our competitors to make sure the component suppliers recovered as quickly as they could."
Spare capacity
But getting all the parts together was only the first challenge for Japan's carmakers, which by then were facing severe electricity shortages as a result of the destruction of the Fukushima nuclear power plant.
"The power shortages made it much more difficult," recalls Mr Palmer, though again the carmakers displayed tremendous ingenuity.
Toyota, for instance, moved its weekend to Thursday and Friday during July, August and September, so its factories could produce during the weekends when demand for power was less acute.
Besides, explains Toyota's Mr Leroy, "we were not using 100% of our production capacity around the world". Hence, some of the production was shifted to factories outside Japan.
While back in Japan, the scheduled summer factory shutdowns were split between the carmakers, so that at least one of them was out of action at any point in time.
Soaring sales
Customer loyalty also played a big part, with many choosing to wait until the Japanese carmakers could deliver rather than opt for models made by non-Japanese rivals.
Consequently, says Nissan's Mr Palmer: "Our market share is growing and our volumes are increasing over last year, not decreasing.
"We expect to make 4.6 million cars this year, up from 4.2 million last year, in spite of the earthquake."
Toyota is also expecting to sell more cars this year than it did last year.
"Based on current flow of cars coming from Japan, we can say the lead time is coming back to levels seen before the earthquake," says Toyota's Mr Leroy.
"During the last financial year, we sold 808,000 cars in Europe and this year, even with the very difficult conditions in the economy and the disaster in Japan, we expect to sell 830,000."
And with the strong sales, there has been money to be made, bringing healthy profits to Japanese carmakers at a time when few could have predicted any success at all.
So as the Japanese manufacturers get ready to resume their uncompromising rivalry, both with each other and with carmakers across the world, it seems they have come out the other end stronger than ever.
And one thing is clear. None of their rivals will ever doubt their capabilities.