Cricket looks to sell itself around the world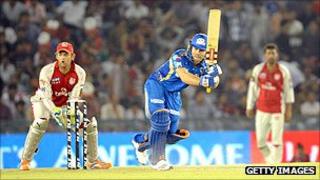 Cricket might seem to be the sporting epitome of continuity and tradition, and one which has its roots in very specific areas of the world.
But like many major sports, it faces a challenge about how it should evolve and seek new markets, fans and demographics.
At the same time it is fighting other sports, such as basketball and football, which are forever looking to expand into new markets - including those which have a strong cricket heritage.
According to sports communications guru Mike Lee, who was successful in getting rugby union Sevens (the short form of the sport) into the Olympic Games, any sport which stands still is in danger of "shrivelling".
There has already been a major shake-up in one of cricket's traditional markets, India, with the creation of Twenty 20 cricket and the formation of the Indian Premier League (IPL).
The IPL has used the short 20-over form of the game, in conjunction with the glamour of Bollywood and huge advertising and TV deals, to sell its entertainment to new fan groups, including women.
'Aspirational'
Another, perhaps more risky, way the sport is looking to expand is to go beyond the borders of the traditional heartlands.
The game's governing body, the International Cricket Council (ICC), has developed a "Bigger Better Global Game" campaign for the next four years, designed to "achieve a truly global game with more players, more fans, and more competitive teams".
As part of that strategy the ICC plans, from 2012, to expand to its World Twenty20 competition to 16 teams from the current 12.
"Cricket must be an aspirational game where nations, and their cricket lovers, can dream of being on the biggest stages," says ICC president Sharad Pawar.
"It cannot be a closed setting and any move to restrict access to the global events would be regressive."
The last ICC World Twenty20 famously included Afghanistan, but now cricket is looking to take on a bigger challenge, taking cricket to the US.
Not an easy task in a country which has such big followings for its own home-grown games, and where cricket is largely played by immigrants.
American move
However, in a major step, the New Zealand cricket authorities have formed a "strategic partnership" with their counterparts in the US.
The first step was an international series between New Zealand and Sri Lanka in Florida in May 2010.
"There will be benefits hopefully both to New Zealand Cricket and US cricket," says Justin Vaughan, chief executive of New Zealand Cricket.
"Cricket is something that is looking to grow from where it is at present. It can either grow within existing markets or grow in new areas."
Mr Vaughan played in six Test matches and 18 one day internationals for his country between 1992 and 1997.
He adds: "Over the past decade cricket has grown within existing markets, and not new markets.
"However, if a multi-billion dollar industry had said that was how it had performed, it would be laughed at.
"Cricket cannot just stay in 10 [Test playing] countries."
'Established sport'
Mr Vaughan said at the World Cricket Business Forum in London that New Zealand, with a population of just four million people, had to look outside the country to grow cricket.
"The way we can grow is offshore, the US is one example and we may be looking at others."
He said the sport had to grow in the US from the bottom up, with a solid fan base, participation in college, and development of facilities to create a depth of players.
"It is not about creating a top national team, the first thing is to make it an established sport in the US."
He said cricket now faced major decisions about it should grow into new markets, and move outside its traditional bases.
Irish cricket
One country outside the traditional cricket orbit, but with a history of shock results, is Ireland.
It has seen playing numbers leap from 17,000 in 2007 to 25,000 now, and plans to double that figure by 2015.
"This came from a standing start, and without the assistance of ICC schemes, we could not have achieved anything," says David Williams, chairman of Cricket Ireland.
He said the 2007 World Cup was also a catalyst for the game in Ireland, with the federations employees growing from three then to 16 now.
Meanwhile annual turnover has risen from 260,000 euros to one million euros.
"We were a Cinderella sport for the sports-mad Irish public, but are now accepted."
Olympics crucial
But Mr Lee, of Vero Communications, said that in many countries around the world, such as China, it was difficult to introduce and grow a sport unless it was part of the Olympics.
"In a modern and changing world... and dynamic changing economy, any sport that stands still is doomed to shrivel and die.
"You will struggle to get a schools programme or public funding unless you are in the Olympic Games."
He said the move by rugby union, and the way it got its sevens version of the game into the Olympics, was a model for cricket to follow.
"I don't think that anyone doubts that Twenty 20 is the way to market cricket around the world," says Mr Lee, who believes cricket missed an opportunity by failing to get the format into the 2020 Olympics.
"We have the perfect vehicle in Twenty 20 to take cricket around the world," agrees New Zealand's Mr Vaughan.
"It can be a Trojan horse for introducing other forms of the game.
"I don't know what we are afraid of. If this is the way to grow the game around the world, then let's do it."
And Cricket Ireland's Mr Williams warns that unless cricket gets into the Olympics, and unless the Twenty 20 format is used as a development vehicle, then cricket will "continue to fail".
However, while New Zealand and Ireland are happy to go down the Twenty 20 route towards global expansion, whether cricketing giants such as England and India will agree to do so remains to be seen.