B&Q-owner Kingfisher unveils new jobs and higher profit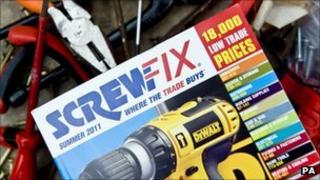 The owner of B&Q and Screwfix has announced that it is creating 1,200 jobs across the UK this year.
Kingfisher said that its growing business would take on 230 staff at 29 former Focus DIY stores. One thousand new jobs are also being created at trade tools supplier Screwfix.
The announcement came as Kingfisher reported sharply higher profits.
Pre-tax profits at the group rose 24% to £439m in the six months to the end of July.
Kingfisher said it was investing £130m in the UK this year, four times the previous year.
That includes £20m it is spending refurbishing the Focus DIY stores it bought earlier this year.
Geographic spread
It has already opened 13 new Screwfix outlets this year. It expects to have opened another 40 by January 2012.
"Although the economic outlook is uncertain, this investment demonstrates our confidence in the UK's longer-term growth prospects," said Kingfisher chief executive Ian Cheshire.
Last Updated at 19 Oct 2017, 11:29 GMT
*Chart shows local time
price
change
%
304.00 p

-

-4.80

-

-1.55
Shares in Kingfisher jumped 5% at the start of trading on Thursday, as markets responded to the unexpectedly strong profits figure.
The company saw a 6% rise in profits at its UK and Irish Republic business - including a 25% jump at Screwfix - despite a 1% fall in sales in its home market.
Kingfisher's overseas business was even more robust, with profits in France up by a quarter, and Germany, Spain, Turkey and Poland all putting in a strong showing.
"With around two-thirds of our profit coming from outside the UK, these results clearly show the value of geographic spread," said Mr Cheshire.
"Looking ahead, economic uncertainty throughout Europe is likely to impact consumer confidence, meaning conditions will remain challenging for retailers.
"However, our plans already assumed little help from our markets."