UK retail sales growth turns negative in August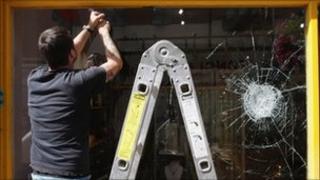 Retail sales contracted in the UK in August, with sales volumes down 0.2% in the month, latest official figures show.
It means the volume of sales for the month was no higher than it was a year ago, according to the Office for National Statistics (ONS).
It comes after sales growth slowed from 0.2% in July, and 0.8% in June.
The ONS said the figure had been affected by the riots in England, but the impact was hard to measure.
"There was some feedback from retailers that the August 2011 riots... resulted in some stores closing early, thereby reducing their opening hours," the ONS said.
"[But] there was also feedback from some retailers that they saw increases in sales due to changes in shopping behaviour."
Household goods
Thanks to rising prices, the total value of sales in the month was 4.7% higher than in August 2010, even though sales volumes were unchanged.
Earlier this week, the ONS confirmed that consumer prices inflation had risen to 4.5% in August.
Household goods stores saw the biggest slump in business, with sales volumes down 4.1% from a year ago.
The trend was reflected in sales figures from two such retailers on Thursday.
Electrical appliances chain Comet saw sales plummet 22% in the three months to July, while Kingfisher - owner of DIY chain B&Q - said its UK and Ireland sales fell 1% in the same period.
However, Kingfisher also said that it was creating 1,200 new jobs this year and was confident in the long-term prospects for the economy.
The data also suggested consumers continued to switch to the internet, with non-store sales - which include online and catalogue purchases - 13.7% higher.
The ONS said that £1 in every £10 spent on retail products in August was done so over the internet, up from £1 in £33 in November 2006.