US factory output growth slowing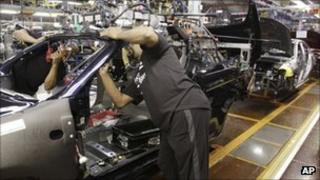 US factory output rose for a second straight month in August, but the rate of growth slowed slightly in comparison with July, official figures have shown.
Factory output last month increased by 0.5% compared with 0.6% in July, said the Federal Reserve data.
Car output was the big riser, adding 2.6% as supplies from Japan return to normal following March's tsunami.
Overall industrial production, which includes the energy sector, rose 0.2%, weaker than July's 0.9% rise.
The Federal Reserve said earlier this month that stock market volatility and rising economic uncertainty were undermining confidence in the US economy.
It is expected to announce fresh measures to boost the economy following its next rate-setting meeting which begins on 20 September.
The US unemployment rate remains at 9.1% after no new jobs were added in August for the first time since 1945.