Are markets blind to the grim outlook?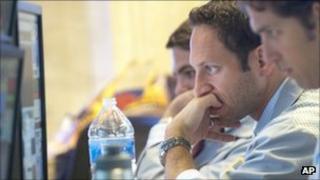 It's hard to remember a week when the markets have been so blind to such bad news.
There is barely an economist who does not treat with the largest pinch of salt the words of reassurance that came from the German/French/Greek conference call on Wednesday over Greece's financial crisis.
There may also be a few people who still believe Greece will not default on its debt, but my suspicion is most of them also believe elephants can fly and the woods are populated by pixies.
Thursday's EU economic forecasts by the European Commission showed growth across the continent coming to a standstill by the end of the year.
Gilles Moec of Deutsche Bank explained how attempts to bring down deficits as a proportion of gross domestic product (GDP) get harder as growth slows: "The markets are requesting the periphery economies stick to their budget targets, but as growth gets weaker, they need to give us more and more fiscal austerity measures which in turn makes the growth outlook even bleaker."
Add in zero growth in the US and rising unemployment, and the sight of rising equity markets becomes ever more curious.
Doom-laden
Since the sharp falls at the end of July and the beginning of August, the three main markets have traded sideways, with the Dow gaining slightly towards 11,500, the Nikkei falling slightly towards 8,600 and the FTSE zig-zagging around 5,200.
Meanwhile the newsflow has grown increasingly doom-laden.
Even on Thursday when the world's central banks intervened to pump money into the European banking system, the markets read this not as a rescue operation, but as some sort of recovery story.
Jeremy Stretch, head of FX strategy at CIBC World Markets, believes that the markets are groping for a place where they can level off, and guesses that will be somewhere close to where they are now, or perhaps 5-10% lower.
He said: "Markets tended to over-reach themselves downwards in the summer, and now they are doing the same again in the opposite direction.
"But unless one gets complete eurozone implosion, the markets look as if they have priced in zero growth or even worse.
"The reality is we will have to steel ourselves for very low growth for a prolonged period."
'Blizzard of downgrades'
Some people feel even this is too optimistic a view, and there is a feeling that at the micro-economic level the bear market has not been fully played out.
Last Updated at 23 Feb 2018, 16:36 GMT
value
change
%
7244.41

-

-7.98

-

-0.11

Top winner and loser

244.05 p

+

+

587.20 p

-

-
Part of the problem is that too many analysts still have overinflated ideas of corporate profitability in the coming year.
Nick Stevenson, strategist at Mirabaud Securities, believes analysts are far too bullish about the market, and has just written a report entitled Do We Really Expect 12% Earnings-per-Share Growth in 2012?
Too many stocks, he says, are forecast to return to earnings levels in the coming year above their peaks of 2007.
Reality, he says, is about to dawn: "We can surely expect a blizzard of downgrades to emerge from analysts' first post-vacation contacts with their respective corporate charges.
"We find it hard to see how the index can make much progress while its underlying earnings base remains a rapidly (and downwardly) moving target."
Triple Witching
Stevenson believes that the sectors that have been most overhyped are cars, food and beverages, healthcare, personal and household goods and retail.
The technology and utility sectors by contrast look to be at reasonably safe levels, he says.
The last day of this week will see a flurry of activity as we approach Triple Witching, when contracts for stock index futures, stock index options and stock options all expire on the same day, and traders are forced to sell or buy accordingly.
No realistic judgement can be made of the market until next week, but the period of adjustment to the new economic reality seems to be far from over.