Royal Mail seeks 18,000 Christmas staff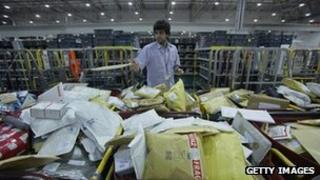 The Royal Mail is looking for tens of thousands of temporary workers to help with deliveries this Christmas.
It wants to hire 18,000 extra staff, 2,000 fewer than last year, partly because of a fall in postal volumes.
It says temporary positions across a variety of shifts will be available between mid November and early January 2012, with the peak of the extra temporary work in December.
The seasonal posts will boost Royal Mail's staff of 130,000 by 14%.
The 18,000 people will work in mail and distribution centres across the UK, sorting Christmas cards and packets.
The jobs will include 3,000 in the Midlands, 2,000 each in Scotland, the South West, Thames Valley, the North East and the South East, 1,500 each in the North West and East Anglia, 1,000 in Wales and 400 in Northern Ireland.
Last year, more than 70,000 people applied to work for Royal Mail over the Christmas period.