S Korea suspends savings banks citing weak finances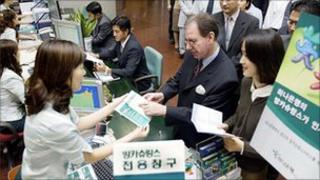 South Korea has suspended seven local savings banks citing the weak state of their finances.
Tomato Savings, the country's second-largest savings bank, is among those ordered shut for six months by the Financial Services Commission.
In July, the regulator launched an investigation into the savings bank industry.
Banks have been hit by a downturn in the real estate market, which saw construction loan defaults increase.
The regulator said the suspended banks had capital-adequacy ratios of less than 1%, well below the regulatory limit of 5%.
The measure calculates the amount of reserves held by the lender versus the amount of risk it has taken on.
"If managements fail to raise the ratios above 5% within the next 45 days, the banks will be put up for sale to a third party," said Kim Seok-Dong, chairman of the Financial Services Commission (FSC).
The FSC said banks with a ratio of more than 5% can seek government funds to boost their capital levels.
South Korea suspended nine savings banks earlier in the year on similar grounds.
Some of those institutions were eventually acquired and others had their licenses cancelled because they failed to find buyers.