Qantas strike to cause flight cancellations and delays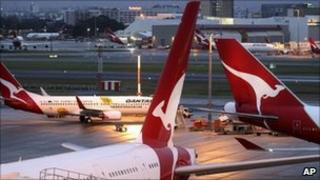 Qantas said more than 6,100 passengers will be affected due to a strike on Tuesday by ground staff.
28 flights have been cancelled and 27 flights will be delayed by 35 minutes, the Australian carrier said in a statement.
The Transport Workers Union has called a strike for four hours at all major Australian airports during peak period.
Qantas is embroiled in a dispute with workers over pay and planned domestic job cuts.
"We apologise to our passengers who will be caught up in this strike action from the Transport Workers Union," said Qantas Group Executive Olivia Wirth.
The delays could go on for up to two days the airline said.
Labour dispute
Among other things, the unions are asking for a 5% pay increase for every year of a three year agreement.
The TWU represents baggage handlers and catering staff.
"We have been in negotiations with the TWU since May and are willing to offer reasonable pay increases," Ms Wirth said.
"We encourage the TWU to remain at the negotiating table instead of going on strike."
Tensions increased between Qantas and the unions last month after airline announced a restructuring plan with a focus on Asia that would see 1,000 workers lose their jobs.
Pilots and engineers employed at Qantas are also involved in low-level industrial action against the airline.