Ed Davey enters Post Office cash access row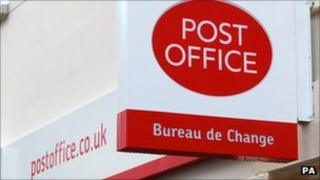 A minister wants HSBC and Santander to allow customers to withdraw cash from the Post Office, but the banks are questioning the demand for the service.
Consumer Minister Ed Davey said that the two banks were "holding out" against allowing customers to use Post Office branches for account access.
But HSBC said that fewer than three in 10 of its customers actually wanted such access.
This comes as the latest stage of Post Office reform is announced.
Judging demand
A recent report from watchdog Consumer Focus suggested that four million customers of High Street banks used the Post Office network to use some current account services.
It claimed that up to 18 million people could go to the network for their banking needs if access was widened.
HSBC and Santander are the only two of the major banks that do not allow cash withdrawal for account holders at Post Offices.
Mr Davey told the Liberal Democrat conference that customers should consider switching to another bank if the two did not listen to a campaign for access.
However, HSBC said customers were able to access their cash through 60,000 cash machines and 1,275 HSBC branches in the UK.
"We recently conducted in-depth research among our customers with regards to accessibility of their accounts at Post Offices, and only one in 10 thought it would improve our service - with many actually saying it would be viewed as a negative," a spokesman for the bank said.
"Recent research by Consumer Focus backed this up and showed that less than three out of 10 HSBC customers would want access to their banking via a post office."
He added that those with basic bank accounts - that do not offer overdrafts or cheque books - could access their money at the Post Office.
Consumer protection
Mr Davey also told the conference in Birmingham that the Post Office could be on a clear path to mutualisation by the end of this parliament as the government launched a consultation of its proposals.
The government wants Post Office Ltd - the national company that sets the strategy for the Post Office network and operates some of the larger branches - to become a mutual.
This would not affect the ownership of the thousands of privately-owned Post Office branches across the UK.
Meanwhile, Mr Davey also announced plans to bring consumer regulations found in 12 different Acts under one Consumer Bill of Rights.
This would include new measures to allow consumers more time to get out of a contract if they have been victims of aggressive sales practices.