Bank of England quantitative easing 'boosted GDP'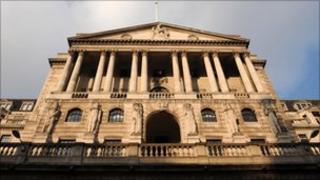 The Bank of England's purchase of £200bn of assets has been "economically significant", boosting GDP by as much as 2%, according to the Bank's Quarterly Bulletin.
The action, known as quantitative easing, could also have raised inflation by 1.5%, the Bank said.
The Bank bought the assets, mainly government bonds, between March 2009 and February 2010.
It used newly created money to fund the deals to try to boost the economy.
However, the Bank warned that there was considerable uncertainty around these estimates and that the precise impact of asset purchases or sales was likely to vary.
News of the figures may fuel speculation that the Bank is to start a new round of quantitative easing to boost the UK's slow economic growth, which was just 0.2% in the second quarter of the year.
This month, the Monetary Policy Committee (MPC) voted for no change in bond purchases and left interest rates at a record low of 0.5% for the 30th month in a row while inflation stayed at more than double its 2% target figure.
MPC member Adam Posen has repeatedly called for a return to quantitative easing since the beginning of 2011.
In a speech last week, he said: "If we do not undertake the stimulative policy that the outlook calls for, then our economies and our people will suffer avoidable and potentially lasting damage," he said.
On Monday, data from Markit Economics suggested there had been a slight improvement in household finances in September.
Its monthly index of household finances edged up to 35.1 in September from a record low of 33.2 in August.