Airbus: Passenger planes to double over 20 years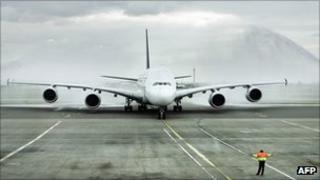 The number of passenger planes worldwide will more than double over the next 20 years, planemaker Airbus has predicted.
The number of planes made by all manufacturers of more than 100 seats will grow from 15,000 this year to 31,000 by 2030, it forecast.
China, the US and Germany are predicted to generate the greatest demand.
"Over the next 20 years, Asia-Pacific will account for 34% of demand, Europe 22% and North America 22%," it said.
Airbus, speaking at its annual global forecast meeting, predicted that the number of low-cost airlines will make up around 19% of all air traffic by 2030, compared with around 5% currently.
Middle-class growth
It claims the number of middle-class people - traditionally more likely to fly - will grow from 1.84 billion this year to almost 5 billion by 2030.
Airbus's forecast also includes 900 newly built freighter aircraft for commercial use. Two thirds of the world's cargo planes have been converted from conventional passenger planes.
The European firm, which makes the giant double-decker A380 superjumbo, believes long-haul air traffic will grow three-fold over the next 20 years.
It could even launch an extra-large version of the A380 by the end of this decade, it said.