Full Tilt Poker faces 'Ponzi charge' in US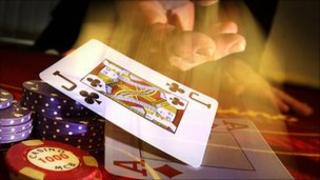 US authorities have accused the owners of online gambling site Full Tilt Poker of operating a huge Ponzi scheme that defrauded players out of $440m (£289m).
Among those accused of receiving money from the alleged scheme were famous poker stars, said attorney Preet Bharara in a statement.
"Full Tilt was not a legitimate poker company, but a global Ponzi scheme," she said.
No one from Full Tilt was available for comment.
The firm, along with two other online poker companies - PokerStars and Absolute Poker - was charged with money laundering and illegal gambling in April.
Additional charges have now been filed alleging that Full Tilt is a Ponzi scheme, a type of fraudulent investment, and naming professional poker stars Christopher Ferguson and Howard Lederer as recipients of money.
The two men, who US news agencies reported were not available for comment, were among the directors of the company.
The Justice Department said Full Tilt "defrauded players by misrepresenting that their funds on deposit in online gambling accounts were safe, secure and available for withdrawal at any time.
"In reality, Full Tilt Poker did not maintain funds sufficient to repay all players, and in addition, the company used player funds to pay board members and other owners more than $440m since April 2007," it said.
Ms Bharara added: "Full Tilt insiders lined their own pockets with funds picked from the pockets of their most loyal customers while blithely lying to both players and the public alike about the safety and security of the money deposited with the company."
Although online gambling gambling is illegal in the US, internet poker remains a multi-billion-dollar industry because companies use a variety of ways to flout the law, including locating operations offshore.
Full Tilt is based in the Channel Island of Alderney.