Japan exports rise less than expected on yen surge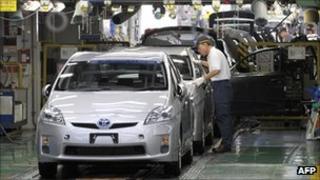 Japan's exports rose less than expected as slowing growth abroad and the strength of the yen have held back the country's economic recovery.
Shipments overseas increased by 2.8% in August, said the Ministry of Finance. Analysts were expecting a rise of 8%.
That combined with a jump in imports caused the country's trade deficit to widen more than expected.
Japan's exports have been hit hard by the earthquake and tsunami that struck in March.
Analysts said that the recent recovery in shipments was now losing steam.
"Growth in exports was slower than expected. The recovery in auto exports seems to be losing momentum, and electronics exports were not so good either," said Yoshimasa Maruyama from Itochu Corporation in Tokyo.
Yen action
The Japanese currency has been appreciating for some time as global investors see it as a safe haven at a time of global economic uncertainty.
Japan has an export driven economy and a strong yen has made its exports more expensive.
Demand for those exports has been further hit by a slowdown and economic instability in Europe and the US.
"The impact of the slowing global economy is starting to become visible in Japan's export figures," said Takeshi Minami, from Norinchukin Research Institute.
On Tuesday, the newly formed Japanese government announced new measures to try and help companies offset the high value yen.
Prime Minister Yoshihiko Noda promised large subsidies for domestic construction of factories.
The yen's rise has forced large companies to reconsider keeping Japan as their manufacturing base, with some expressing the intention to move operations overseas.