UK government borrowing rises in August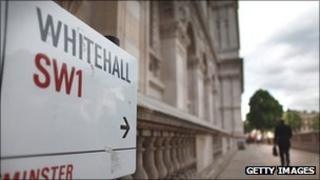 Public sector net borrowing (PSNB) in the UK during August was a higher-than-expected £15.9bn, although previous months' borrowing was revised down.
The August figure marked a rise of £1.9bn from a year earlier and was the highest total for an August on record.
It means a third of the way into the fiscal year, cumulative borrowing at £52bn is only 7% less than a year ago.
However, last year's total borrowing estimate was cut by £5.9bn, mainly due to changes in local government data.
Borrowing for the current year-to-date was also revised down, by £4.6bn.
The changes mean that government net debt now stands at 61.4% of annual economic output, still up from 55.3% a year ago.
"At face value, the latest month isn't very good, but last month was revised much lower and the previous fiscal year revised much lower," said analyst Alan Clarke of Scotia Capital.
The August figure, announced by the Office for National Statistics (ONS), was well above the £13.2bn total expected on average by City analysts and reverses the surprisingly low PSNB seen in July.
Receipts from income and wealth taxes fell some 5% versus a year earlier - a worrying indicator for the health of the economy.
July's figure - first reported as a £20m deficit but now revised to a £2.4bn surplus - had led some analysts to suggest the government might be on course to hit its target of eliminating the deficit by 2015, although the monthly data is known to be quite volatile.
The data excludes the effect of the government's interventions to support the banks.
Meanwhile, HM Revenue & Customs revealed that the tax gap - the shortfall in revenues due to disputes and tax evasion - fell in the 2009-10 year by £4bn to £35bn, or 8% of estimated tax revenues.