Nike profits from increased sales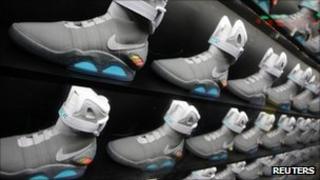 Nike's latest profits have met market expectations, sending its shares up more than 5% in after hours trading.
The US sportswear giant made a net profit of $645m (£420m) in the three months to 31 August, up 15% from its same first quarter period last year.
Its revenues rose 18% to $6.1bn, as Nike said demand for its products remained strong around the world.
The rise in sales helped to offset a fall in profit margins caused by higher raw material prices.
Oregon-based Nike said its profit margin declined to 44.3% from 47%.
Looking forward, Nike chief executive Mark Parker said it "pays to be prudent" in the current economic climate.
He added: "It's also essential that we remain on the offensive, creating opportunities.
"We do that by connecting with consumers, designing innovative products and delivering amazing experiences."