Consumers cautious on debt, say banks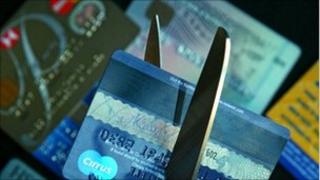 Consumers adopted a cautious approach to borrowing through loans, overdrafts and on credit cards in August, according to the major banks.
Repayments on unsecured lending outstripped new borrowing in August by around £100m, figures from the British Bankers' Association (BBA) showed.
However, the data does reveal a lift in lending in home loans.
The number of mortgages approved for house purchases was up on July and 14% higher than a year ago.
However, lending remains subdued compared with historical levels.
Wait and see
The figures showed that consumers were keen to pay off existing debts rather than saddle themselves with new debt, according to BBA statistics director David Dooks.
"The banks' new mortgage lending has ticked up in the past couple of months with higher buy-to-let demand, although the general landscape is one of households not wanting to take on more borrowing and businesses waiting for trading conditions to improve before borrowing to expand or invest," he said.
The number of mortgage approvals increased from 75,314 in July to 78,288 in August.
Gross mortgage lending of £8.2bn in August was 3% higher than the same month a year earlier, the BBA said.