PCCW eyes $1.3bn HK listing by spinning-off unit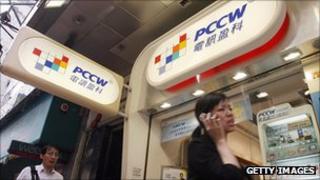 The Hong Kong communications firm PCCW, which is owned by the son of tycoon Li Ka-Shing, is looking to raise as much as 10bn Hong Kong dollars ($1.3bn; £829m) in a share sale.
The company said it was planning to spin off its telecom unit into a publicly traded business trust.
It comes at a time when financial uncertainty has seen many firms delay or cancel their listing in Hong Kong.
A major slice of the money raised will be used to pay off the firm's debts.
"The directors believe that the separate listing will allow the telecommunications business to create a more defined business focus and efficient resource allocation," the company said.
'Fair value'
However the company said the listing of the trust will go ahead only if its market capitalisation rose above HK$28.6bn.
That is almost 20% more than PCCW's current market capitalisation of HK$23.8bn.
The telecoms business accounted for almost 80% of the company's total revenue for the financial year to the end of December 2010.
PCCW said that given the importance of the business unit, its separation from other businesses should translate into a higher market value.
"A separate listing... will unlock value for the shareholders and better identify and establish the fair value of the telecommunications business," PCCW said.
Analysts said the company may succeed in its efforts to get a higher valuation as investors look for safer stocks in the current financial environment.
"Telecoms assets are more stable in terms of their cash flows, predictability and profitability," Christopher Wong of Aberdeen Asset Management told the BBC.
Mr Wong explained that telecommunication had become an indispensable part of everyone's life and was one of the fastest growing sectors, making it an attractive investment option.
Mixed signals
While PCCW is optimistic of increasing the market value of its business and raise fresh capital, other companies are being cautious.
Some of China's biggest firms have pulled back or delayed their plans for listing on the Hong Kong stock exchange.
According to reports, XCMG Construction Machinery Co, China's biggest crane maker has decided not to go ahead with its proposed $1.1bn listing after some of the underwriters pulled out.
Last week construction machinery maker Sany Heavy Industry Co, delayed the launch of the retail portion of its $3.3bn offering and also pushed back the listing date. Xiao Nan Guo Restaurants Holding Ltd. has also scrapped a $75m Initial Public Offering.
Analysts said the current volatility in the markets had forced the companies to rethink their plans.
"The investors are trying to de-risk. As a result the companies are not going to get the valuations that they were looking for," said Mr Wong of Aberdeen Asset Management.
"The investment banks are lowering their clients' expectations and advising them to hold back on the listing."