Libya seeks partners for rebuilding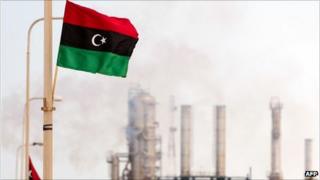 Libya will spend hundreds of billions of dollars on reconstruction over the next decade, according to the UK representative for the National Transitional Council.
But British companies should not count on getting "easy business".
Speaking at the Libya - The Future conference in London to business leaders interested in working in his country, Guma al-Gamaty said: "There will be huge changes in everything - in the oil and gas sectors, in education and with the creation of new industrial sectors. But it's not a guaranteed market for you."
A month ago, a director of the opposition forces' Arabian Gulf Oil Company suggested that companies from Western nations, such as the UK and France, could be favoured over those from China and Russia when future contracts were awarded, because their governments had been more helpful to the rebels' cause.
"Contracts will be awarded not on the basis of political favouritism, but on merit, quality and competitiveness," said Mr al-Gamaty.
The Libyan British Business Council, which represents UK firms working in Libya, said it is not disappointed by his stance.
"If one benefit comes through - that the future economic management of the country is open, transparent, free from corruption - then that is good for all foreign businesses, and that's the reward we're looking for," said its director general, Robin Lamb.
Economic diversity
Mr al-Gamaty said post-war reconstruction would start immediately to repair houses and offices in heavily-damaged cities such as Misrata.
That would be funded by the $170bn worth of Libyan government assets abroad, as they are unfrozen.
He predicted that Libyan oil exports would recover to stand at 1.3 million barrels a day within six months' time. That would add another $40bn to $50bn a year to national income.
The government was aiming to diversify the economy away from dependence on oil and gas, he said, towards alternative energy projects, tourism and the building of a small business sector.
"Nine hundred thousand Libyans worked for the government and had no incentive to develop new skills, because they had a job for life," said Mr al-Gamaty.
"They need a new incentive to work, and this is where private enterprise comes in."
However, he said, UK companies could not expect to go to Libya and win big projects on their first visit.
"The key decision-makers are not in place in the ministries to sign off on contracts," he said. "We are like someone who has just moved into a new house. Everything is still in boxes."
"My advice is, there's no harm in coming to Libya now to look around and do a bit of networking. But pitch your expectations at a reasonable level," he said.
'Goodwill' for foreigners
One dilemma for businesses is whether it is safe enough yet to send staff to Libya. There are many "pathfinder" firms currently in the country searching for opportunities for foreign businesses and assessing the risks for them.
One of those firms is Inkerman, based in Ashford, Kent. "Benghazi and Tripoli are safe," says its chief executive, Gerald Moor, who recently returned from a tour of Libya.
"The main highway to them is OK as well. But go off there and you could get robbed by armed gangs from the desert.
"Almost everyone is armed and that could be a danger. But my advice is, you shouldn't be frightened and you should go to Libya, because the Libyans will want to you there and you will be welcomed."
He recommended that businesses scouting for work in Libya team up with local agents to smooth over the difficulties of working in the post-war environment.
"The big difference between the prospects for the reconstruction of Libya and what happened in Iraq, where reconstruction work was sabotaged, is that the regime change in Libya was different to Iraq," said Mr Moor. "There's more goodwill towards foreigners."
Guma al-Gamaty said that although the NTC would not favour UK firms, British business leaders should not underestimate the goodwill of Libyans towards them.
"In Libya, our second language is English, not French or Italian," he said. "London and the UK is our first choice of destination abroad, for education and business."
He suggested that Britain and Libya drop entry restrictions for each others' citizens.
"Each country should issue visas on arrival at the airport," Mr al-Gamaty said. "And the British shouldn't be worried about Libyans coming over and staying in Britain. Most will be wanting to return to Libya to pursue the new opportunities there."
However, Mr al Gamaty warned businesses strongly against bringing with them private armies of security personnel.
"In Iraq and elsewhere, we have seen things with security firms which are not attractive," he said. "Libyans could be alienated by foreigners with guns pushing them around. It could be an aggravating factor."