German business sentiment falls further, Ifo says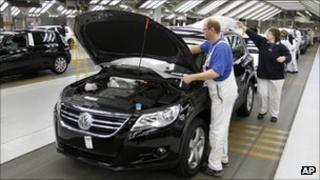 German business sentiment has fallen for the third month in a row, a survey has indicated, but the decline was less than analysts had expected.
The business climate index from the Ifo economic think tank fell to 107.5 in September, its lowest showing since June 2010, from 108.7 in August.
Ifo said firms were concerned that the continuing eurozone debt crisis could affect the wider economy.
It added that the large manufacturing sector was particularly cautious.
This is important because Germany is one of the world's largest exporters of manufactured goods, led by its carmakers.
Ifo president Hand-Werner Sinn said: "The business expectations for the coming half year once more deteriorated markedly."
However, he added that business confidence in current trading conditions was no worse than in August.
Joerg Lueschow, economist at German bank WestLB, said he was pleased September's decline had been less than feared.
"The situation in Germany is not as bad as that reflected by markets," he said. "These figures don't show Germany falling into a recession."