Kodak shares drop by 25% after cash call raises concern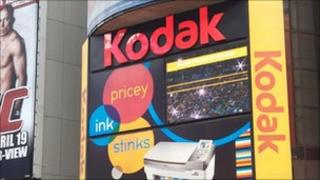 Eastman Kodak shares fell 25% on Monday after the company announced plans to borrow $160m (£103m) for "general corporate purposes".
Analysts said they wanted more details about how the cash would be used and the company's cash-flow situation.
Kodak, synonymous with film photography for more than one hundred years, has struggled to adapt to the digital age and has not made a profit since 2007.
Shares in Kodak have fallen by 66% so far this year.
In 1997 Kodak's shares traded at $90. On Monday, they closed 64 cents lower at $1.74.
The company has spent millions of dollars investing in its business, and there is concern amongst investors that Kodak needs the new money to help run its operations.
Kodak will get the $160m by accessing a credit line that gives it the right to borrow as much as $400m.
Survival strategy
Kodak looked to play down the fears over its cash flow, pointing to the fact that it had $957m in cash on its books at the end of June.
According to the Reuters news agency, Kodak spokesman Christopher Veronda declined to say how much cash the company currently had.
However, he added that "we certainly have not consumed $957m in cash since June 30".
Chris Green, a technology analyst with the Davies Murphy Group, said Kodak was in danger of becoming obsolete in the digital age.
"Unless they can keep pace they won't survive," Chris Green told the BBC.
In an effort to diversify, Kodak has been trying to make a name for itself in the digital printing market but the competition has been tough against more established names including Canon and Hewlett-Packard.
One possible lifeline for Kodak is the sale of some of its patents.
"They have a fantastic base of patents particularly with regard to digital photography," says Chris Green. "Going forward this could be their future as a patent house."
Kodak announced the sale of 10% of its patent portfolio back in July.