Buffett's Berkshire Hathaway to launch share buyback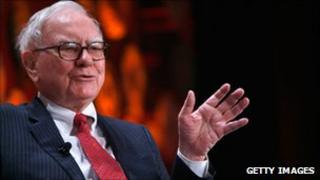 Berkshire Hathaway, the firm owned by Warren Buffett, has said it is to launch its first share buyback programme.
The company said it may purchase shares in the open market or through privately negotiated transactions.
Berkshire said it would pay a maximum of a 10% premium on the current book value of the shares.
The move comes after repeated complaints from investors that the company's stock was undervalued.
"If we are correct in our opinion, repurchases will enhance the per-share intrinsic value of Berkshire shares, benefiting shareholders who retain their interest," the company said in a statement.
Deep pockets
The company said that it would use "cash on hand" to fund the repurchases.
"The repurchase program is expected to continue indefinitely and the amount of purchases will depend entirely upon the levels of cash available," it said.
However, it said that buybacks would be stopped if the company's cash reserves fell below $20bn (£12.9bn).
Berkshire had $47.9bn in cash reserves as of 30 June, but has used almost $15bn on acquiring new business or making investments.
The latest of those came earlier last month, when it announced a $5bn investment in Bank of America.