Irn Bru maker AG Barr sees flat profits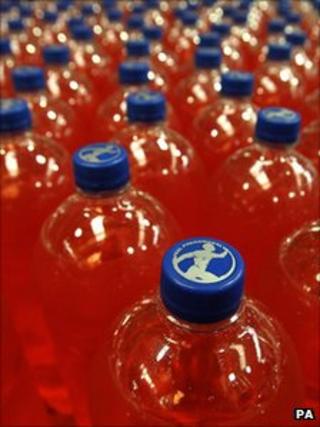 AG Barr, the maker of the fizzy drink Irn Bru, saw a small rise in the half year profits to 31 July despite higher revenues and more promotional activity.
Profits rose to £16.2m from £16m on total turnover up from £119.2m to £124m.
Chief executive Roger White said the "relatively poor summer weather" and tough competition had affected the drinks market.
Barr's other brands include the fruit drink Rubicon and Strathmore water.
"We are pleased to have delivered financial performance in line with our expectations," said Mr White in a statement.
"This is a particularly positive result given the challenging comparatives we faced in the first half of the year, the relatively poor summer weather, which has impacted the soft drinks market and a competitive market backdrop."
AG Barr said that promotional activity increased "as brand owners and retailers sought to pass on price increases on the one hand but increased promotional activity to maintain market share on the other".
The company said it intended to open a new production site in the south of the UK, and would announce specific details in due course.