Can BAE's Typhoon fighter jet defy military spending squeeze?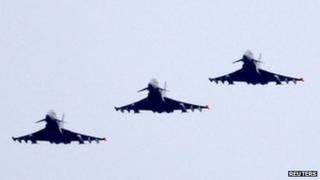 Defence spending cuts have been blamed for the job losses at BAE Systems.
Indeed, there was a dramatic slowdown in global defence spending growth last year to just 1.3%, with European nations actually cutting spending by 2.8%, according to the Stockholm International Peace Research Institute (Sipri).
"The global increase in military spending of 1.3% is the slowest annual rate of increase since the surge in global military expenditure began after 2001," according to Sipri.
"Between 2001 and 2009, the annual increase averaged 5.1%."
Still growing
But a slowdown in the growth in spending is not the same as an actual fall.
On a global basis, military spending remains strong, having hit a record $1.63 trillion (£1tn) in 2010, which is about double the global spend seen a decade ago.
The world's biggest spender, the US, has slowed down a little after having raised its arms budget by 7.4% per year between 2001 and 2009, but growth was far from weak last year at 2.8%.
Military spending growth was even stronger in Asia, with growth seen in the Middle East, Africa and South America too.
Deserting customers
So there are still big contracts out there, and the world's second-largest arms producer BAE is still gunning for them.
For instance, India and Japan are both looking to sign major new fighter jet contracts and the Eurofighter Typhoon is seen as a strong contender in both cases.
The challenge for BAE is thus not necessarily just an overall reduction in spending.
Rather, the current problems at BAE are at least partly a result of some Typhoon customers deserting to get on board the F-35 Joint Strike Fighter programme instead.
Italy, for instance, cancelled a 2bn-euro ($2.7bn; £1.7bn) order last year for its final 25 Typhoons - about a fifth of its original order placed in the mid-1990s when the Typhoon was introduced - to buy F-35 aircraft instead.
Geopolitical considerations
The solution for BAE, thus, lies in beating the competition in their battle for new fighter jet contracts.
This would certainly help the company, though with customers increasingly demanding both knowledge and jobs transfers as part of any deal it is not always clear that it will help create jobs in the UK.
But BAE is facing tough competition from rivals such as the French Rafale and the Swedish Saab Gripen, as well as US jets F/A-18 Super Hornet from Boeing and the F-35 Lightning II from Lockheed Martin.
When a fighter jet is chosen, three factors are considered, according to Typhoon fighter jet test pilot Craig Penrice: performance, price and politics.
Those involved in building the Typhoon are convinced the fighter jet performs as well as any of its rivals, and they are sure it can compete on price too.
But with geopolitical considerations distorting the global market for fighter jets, it is clear that there is little the BAE workers can do to influence the future, neither for their families, nor for the firm that is now laying them off.
Military expenditure 2010
The rate of global military spending slowed last year after a decade of rapid annual growth. In total, military spending reached $1,630bn last year. The region with the largest increase was South America, reaching $63.3bn.
While there was a slowdown in European spending, the so-called BRIC countries continue among the big spenders. China and Russia are high in the table, while India and Brazil are both increasing their military expenditure.
US companies' dominance of the defence sector disguises a shift towards more off-the-shelf products being used, such as electronics. The line between who works in or outside the defence industry is therefore increasingly blurred.
Sipri experts say the increase in South American spending (5.8%) is surprising given the lack of real military threats to most states. Africa's estimated increase in spending (5.2%) was led by major oil-producers.
BACK
{current} of {total}
NEXT