UK retail sales weakest for 16 months, says CBI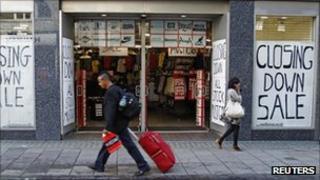 UK retail sales saw their worst performance for 16 months in September, the CBI business group has said.
Its latest Distributive Trades Survey found that 24% of retailers said sales were higher than the same month last year, compared with 39% who reported a fall.
This gave a balance of -15%, the weakest measure since May 2010, but in line with analysts' expectations.
The CBI blamed rising unemployment, low wage growth and high prices.
"Shoppers are still clamping down on discretionary spending, and focused on buying the basics at the best price," said the CBI's Judith McKenna.
The CBI added that retailers were also pessimistic about next month, with its expected sales balance for October falling to -14% compared with the -7% projection for September that the last survey gave in August.
"With the consumer squeeze set to get tighter with the winter utility bills rise, we expect retailers will face a challenging October," Ms McKenna added.
The most recent official figures from the Office for National Statistics showed that retail sales fell 0.2% in August.
Mixed results
Earlier on Tuesday, video games retailer Game Group said losses had more than doubled to £51.5m for the six months to 31 July.
The company blamed a combination of a cyclical low point for the games sector - while new hardware is developed - and a squeeze on consumer spending.
However, there was better news from menswear retailer Moss Bros, which reported a return to profit for the six months to 30 July.
Moss Bros posted half-year profits of £2.2m, with like-for-like sales up 15.4%.