House prices continue to stagnate, Land Registry shows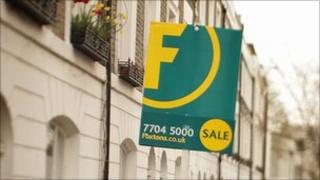 House prices in England and Wales continue to stagnate, according to the latest figures from the Land Registry.
Average prices fell by 0.3% in August to £162,347, leaving them 2.6% lower than a year ago.
It was the third fall in the past four months and means the annual rate of house price decline has changed little during that time.
With small fluctuations each month, house prices in England and Wales have hardly changed since the end of 2010.
The Land Registry said that prices in London continued to diverge strongly from the rest of the country.
They rose by another 0.5% last month and are now 2.1% higher than they were a year ago.
This makes London the only region to experience a rise in prices in the past year, with property prices now averaging £348,686.
By contrast, in that time prices have fallen by 7.8% in the North East of England and by 5.5% in Wales.
Lucy Pendleton, of estate agents James Pendleton, said the market was in a state of eternal to-ing and fro-ing.
"London, with its unique climate, once again stands out as the most resilient local market in the UK," she said.
"While London prices float upwards due to a shortage of property and strong demand, not least from wealthy foreign buyers attracted by the cheap pound, for the rest of the UK it is not quite so positive."
'Tight funding conditions'
The continued stagnation of prices and sales has been mainly due to the rationing of mortgage funds by banks and building societies, which has been in force since the height of the banking crisis in 2008.
A report from the Bank of England - its latest quarterly Credit Conditions Survey - has found that lenders continue to find it difficult to raise funds in the financial markets, which they can then lend to customers.
Lenders told the Bank that there had been more demand for mortgages in the third quarter of this year.
And they expected to be able to offer a little more money to would-be borrowers in the coming months.
But the Bank warned that things might take a turn for the worse.
"In both the household and corporate surveys, lenders pointed to adverse wholesale funding conditions as a key factor which might constrain future lending," the Bank said.
"More recent discussions with some of the major lenders suggested that although these factors had not yet led to reduced credit availability, a period of sustained tight funding conditions could act to constrain their ability to extend loans going forward," it added.
Property market commentator Henry Pryor said that with asking prices still much higher than selling prices, sellers were still in denial about the true market value of their homes.
The property website Rightmove recently reported that this month the average asking price in estate agents' windows had risen by 1.5% to just over £233,000 - a huge 44% more than the actual selling price of homes the previous month.
"The result of this difference of opinion is that the market is seizing up with low sales volumes reflecting that very few buyers and sellers can agree on a mutually uncomfortable price," he said.
"Sellers need to wake up and realise that an optimistic guide price just makes you look greedy and unrealistic."