NBNK to bid about £1.5bn for Lloyds bank branches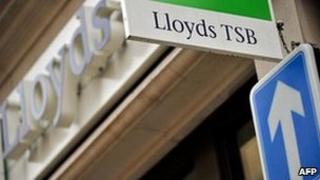 NBNK, formed last year to build a new High Street banking presence, is to bid about £1.5bn for 632 Lloyds branches, the BBC understands.
BBC business editor Robert Peston says that a formal bid for the outlets and £36bn of deposits will be made later on Wednesday.
Lloyds is being forced to sell the branches by European Commission competition authorities.
NBNK has received billions of pounds of backing from institutional investors.
Two other potential bidders have been linked with the Lloyds disposal: a venture between Co-Operative Financial Services and Britannia Building Society, and Sun Capital, a US investment firm.
Our correspondent has also learned that NBNK will exercise the option to buy fewer mortgages and other loans than were originally on offer from Lloyds.
This is because the freezing of bank funding markets has made it all but impossible for any bidder to borrow on the market to finance the larger portfolio of loans, he said.
NBNK is chaired by Lord Levene and run by Gary Hoffman, who became chief executive of Northern Rock after the failed bank was nationalised.
NBNK is understood to be in significantly more advanced talks than rival bidders in respect of raising finance for the takeover.
Under the terms of the forced sale imposed by the European Commission, Lloyds has until the end of 2013 to complete the disposal of the branches.