Bank of England issues warning on bonuses and dividends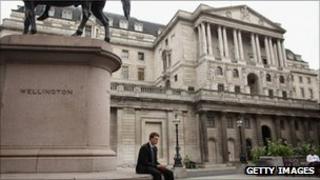 The Bank of England has issued a blunt warning to banks to cut staff bonuses and shareholder dividends to save cash.
The Bank's new Financial Policy Committee (FPC) said banks needed to take action to protect themselves against any "future shocks".
This could mean ensuring "discretionary distributions reflected any reduction in profits", the FPC said.
The Bank is worried UK banks might suffer losses if eurozone governments default on their huge debts.
The FPC pointed out that in the past few months, the eurozone debt crisis had led to "severe strains" in the financial markets.
Crisis jargon buster
Use the dropdown for easy-to-understand explanations of key financial terms:
AAA-rating
The best credit rating that can be given to a borrower's debts, indicating that the risk of borrowing defaulting is minuscule.
"Anxiety about the consequences of these issues for banks had increased materially and, in turn, the perceived vulnerabilities of banks were adding to strains in financial markets," said the FPC's public statement.
The committee said that UK banks had spent the past two years building up their reserves to absorb losses from any crisis in the financial system.
But it warned that with the continuing problems in the eurozone threatening to undermine the solvency of some foreign banks, and the possibility of a domino effect hitting UK banks, they were now in danger of being overtaken by events.
"The committee therefore recommended that banks should take any opportunity they had to strengthen their levels of capital and liquidity so as to increase their capacity to absorb flexibly any future shocks, without constraining lending to the wider economy," it said.
The FPC was established by the government earlier this year and held its first meeting in June.
Operating in parallel to the Monetary Policy Committee, which sets interest rates, the FPC has been given the task of spotting risks in the financial system and taking action to stop them becoming a crisis.
Forthcoming legislation will give the FPC formal regulatory powers over financial institutions and financial markets.