Shell refinery fire in Singapore 'contained'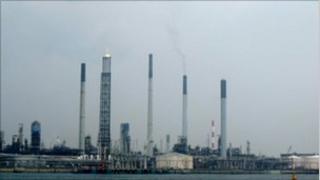 Royal Dutch Shell said a fire that broke out at a refinery in Singapore - its biggest globally - has been contained.
The fire started on the plant on Bukom island, five kilometres off Singapore, on Wednesday and affected a unit that helps make diesel fuel.
Shell said it is shutting down units at the refinery as a precaution.
Singapore is a trading hub and analysts said a prolonged shutdown could tighten supplies.
Shell said that, while the fire was contained, firefighters were still working to completely extinguish it.
It also said an inquiry would be forthcoming
"We believe it was an accident," the company said in a statement. "A full investigation will be conducted once the fire is put out."
Trading centre
Shell shut down a hydrocracker at the refinery, which will affect gas oil and jet fuel production. All crude units were also operating at reduced rates.
Capacity at the Bukom plant is 500,000 barrels a day.
The fire hit at a time when refiners around Asia are already running near full capacity to meet demand.
Singapore is the world's largest market for fuel oil and Asia's hub for crude and refined product trading.