Thomas Cook reports flat UK summer holiday bookings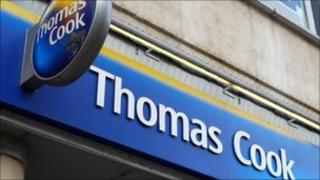 Thomas Cook has said bookings by its UK customers were "flat" during the summer holiday season, but that its full-year profits should be "broadly in line with market expectations".
In a trading statement, the travel company also said it was continuing to be affected by the political turmoil in the Middle East and North Africa.
It said this had particularly affected its French business.
However, its sales in northern Europe, including Germany, were up strongly.
Its summer bookings for this region - which also includes the Scandinavian countries - were 13% higher than a year earlier.
Bookings in France, Belgium, the Netherlands and Eastern Europe were down 1% from a year ago; and there was no change in the UK.
Boss departure
Thomas Cook's forward bookings for the 2011-12 winter season are currently mixed when compared with the same time last year.
They are down 7% in the UK, and 16% lower in France, Belgium, the Netherlands and Eastern Europe, but up 6% in Germany and Scandinavia.
Thomas Cook said it was continuing efforts to boost its profitability.
The company also said it would not be making any dividend payments. It is instead focusing on paying down its debts of around £900m.
Former chief executive Manny Fontenla-Novoa left in August, followed just over a week later by the head of its UK retail division, Ian Derbyshire.
They departed the company after it had issued its third profit warning in a year.
Thomas Cook is now continuing with a strategic review of the business.