Japan boosts efforts to stabilise yen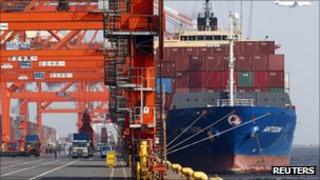 Japan's government has authorised the use of additional funds to help prevent the yen strengthening further, as figures show a slowdown in the growth of industrial output.
The Finance Ministry said it could spend another 15tn yen ($196bn; £125bn) to stabilise the currency, which has risen in value as investors look for safety amid economic uncertainty.
Meanwhile, data showed factory output rose by 0.8% in August.
This was less than analysts expected.
"The recent 75-80 yen range [against the dollar] could pour cold water on the Japanese economic recovery," said Finance Minister Jun Azumi.
"We will take bold actions when needed and we don't rule out taking any necessary measures."
A strong yen makes Japanese exports more expensive to overseas buyers.
As well as boosting the fund designed to stabilise the yen, the government said it would continue to monitor foreign exchange traders' positions in order to deter currency speculation.
This is the latest in a series of moves by recent governments to halt the strength of the yen. Prime Minister Yoshihiko Noda's recently-elected government has already announced subsidies for companies struggling to remain competitive.
Retail slump
Although industrial output grew by 0.8% in August, the government said it expected output to fall by 2.5% in September, before rebounding strongly in October.
On Thursday, figures showed a sharp fall in retail sales in August as a post-earthquake rebound petered out.
Sales fell 2.7% versus a year ago, a much sharper decline than the 0.6% rate expected by markets.
This week's data has led some analysts to question the strength of Japan's post-earthquake recovery.