New £50 note set for 2 November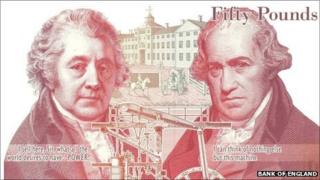 The Bank of England has announced that the new-style £50 note will be introduced on 2 November.
The design of the new note was revealed in 2009 and features entrepreneur Matthew Boulton and engineer James Watt, who pioneered the use of steam engines in textile manufacturing.
The Bank says the note will have a range of enhanced security features.
It will be the first time that two portraits will appear together on the reverse of one its banknotes.
The Boulton and Watt note will initially be circulated in tandem with the current £50 note featuring Sir John Houblon, the first governor of the Bank of England.
The Houblon note will eventually be withdrawn. The Bank will announce a withdrawal date in due course.
The design has seldom changed since it was first introduced in 1725. A white £50 was in use for more than 200 years until 1943.
There are 210 million £50 notes in circulation, valued at £10.5bn. That is 84% higher than 7 years ago.
The £20 is the most common Bank of England note in circulation, with 1.55 billion notes in circulation worth £31bn.