Bank of America shares fall amid debit card fee anger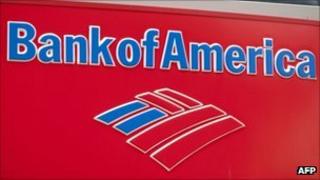 Shares in Bank of America have fallen 2%, a day after it announced plans to charge debit card users $5 (£3.20) per month to pay for their purchases.
Bank of America, the largest US bank by deposits, said it would introduce the fee early in 2012.
The move comes ahead of a new rule that will limit how much lenders can bill retailers for customer debit card transactions.
The bank's debit card holders will still get free cash withdrawals.
The monthly charge will apply to users of Bank of America's basic bank accounts, and will be in addition to any service fees they already have to pay.
A number of smaller US banks, such as SunTrust, a regional lender based in Atlanta, have already introduced charges for debit card purchases.
So far only Citigroup has ruled out introducing the change.
'Changed economics'
Bank of America said the new fee would be rolled out on a state-by-state basis.
Its move comes as an amendment to the Dodd-Frank Wall Street Reform and Consumer Protection Act goes into effect from 1 October.
The amendment, brought by Democrat Senator Richard Durbin, limits the fees that banks can charge retailers for processing debit card transactions to 21 cents.
This compares to the previous average of 44 cents, meaning a substantial fall in revenues for the banks.
A Bank of America spokeswoman said: "The economics of offering a debit card have changed."
Sen Durbin said Bank of America's move was "overt and unfair" and that he hoped its customers would "have the final say".
"Bank of America is trying to find new ways to pad their profits by sticking it to its customers," he said.