Financial services firms 'plan job cuts'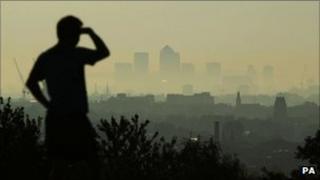 Financial services firms are expected to cut jobs in the next three months after recent volatility on the stock markets "darkened the mood" in the sector, a report has said.
The PricewaterhouseCoopers and CBI survey said that in the three months to September growth in the sector was at its slowest pace since June 2010.
A further slowdown is expected in the coming quarter, the study said.
Sentiment has fallen for the first time since March 2009.
For the first time in two years, firms expect no improvement in profitability.
Numbers employed rose modestly in the most recent quarter, but are expected to fall by the end of the year.
"The recovery in the financial services sector is continuing, but the pace of growth has slowed compared with earlier in the year," said Ian McCafferty, the CBI's chief economic adviser.
"After a torrid couple of months on global financial markets, the mood has clearly darkened. Uncertainty about future demand, worries about the global recovery and shifting regulatory sands are weighing on sentiment.
"With business volumes predicted to slow further and little growth in income expected, firms are planning to reduce their headcount in the next quarter."