UK manufacturing 'returns to growth' in September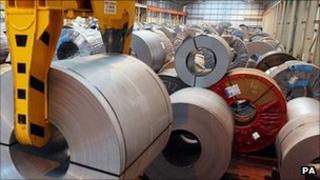 The UK manufacturing sector returned to growth in September for the first time in three months, a survey suggests.
The Markit/Cips manufacturing purchasing managers' index (PMI) rose to 51.1 last month, well ahead of economists' forecasts of 48.6. Any level above 50 implies growth.
August's figure was also revised upwards, from 49 to 49.4.
However, Markit said that levels of new export orders contracted at the quickest pace since May 2009.
Employment in the sector also fell for the third month in a row, with job losses linked to company restructuring, leavers not being replaced and the "ongoing subdued underlying trend in new orders", Markit said.
Timber and paper and transport reported the most job cuts, and these were also the sectors that saw the weakest output.
The manufacturing data for the UK was in contrast with the PMI for the eurozone, which showed the manufacturing sector in the 17-nation bloc contracted at the fastest pace for two years.
'Modest contribution'
Although the UK figures were better-than-expected, Markit said that the average PMI reading in the third quarter (50) had been much lower than those seen earlier in the year.
The average PMI in the first quarter had hit a near-record 59.4.
"The modest return to growth of UK manufacturing output in September is a positive, but it is hard to escape the fact that the sector's performance has weakened substantially since the opening quarter's growth surge," said Markit economist Rob Dobson.
"These data suggest that the positive contribution of manufacturing to the broader economic recovery is likely to remain modest, at best, through the remainder of the year."
Manufacturing has been one of the bright spots in the economy, helping the UK emerge from recession in late 2009, but worries in key export markets and weaker demand at home have taken their toll.
Last week, defence firm BAE Systems said it would cut nearly 3,000 jobs in the UK.