US manufacturing registers 'slight September pick-up'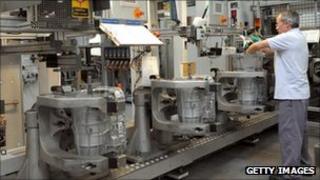 Manufacturing in the US has registered a small but unexpected pick-up, according to a widely watched survey.
The ISM Manufacturing Index rose to 51.6 in September, from 50.6 a month earlier, beating expectations that the index would remain unchanged.
Any level above 50 indicates expanding activity at US factories.
However, new orders continued to fall, the survey suggested, with respondents saying they were worried by the weak recovery and political deadlock.
Separate data, released simultaneously by the US Commerce Department, showed that the construction industry also grew much more strongly than expected in August.
US stocks reacted strongly to the news, with the main Dow Jones index jumping 1.4%, before later falling back again on what is proving another volatile day of trading.
New orders
The manufacturing sector has now expanded for 26 months in a row, since the 2008-09 recession ended, according to the survey.
But industry continues to endure a soft patch, with the index still well below the 55-60 range seen earlier in the recovery.
Production - which is only one measure of activity included in the survey - also expanded, having been reported as shrinking in August. Employment also picked up more strongly.
Last Updated at 22 Nov 2017, 20:58 GMT
*Chart shows local time
value
change
%
23526.18

-

-64.65

-

-0.27

Top winner and loser

47.10

+

+

231.58

-

-
But the backlog of orders continued to weaken, reaching its lowest level since April 2009.
"We see production is up, back in growth territory, but manufacturing is working off its backlog of orders," said Bradley J Holcomb, who chairs the survey committee.
"The main concern going forward would be if new orders didn't pick up."
He added that anecdotal evidence pointed to concern over the sluggish economy, political and policy uncertainty in Washington, and forecasts of ongoing high unemployment that will continue to put pressure on demand for manufactured products.
'Bumping along the bottom'
Meanwhile, construction spending in the US rose 1.4% in August, according to separate data from the Commerce Department.
That also easily beat market expectations of a 0.3% contraction, and reversed a 1.4% fall seen in July.
Public sector spending accounted for the bulk of the expansion, while private sector spending grew a much weaker 0.4%.
"[It] was better than what we were expecting," said Sean Incremona, economist at financial analysts 4cast.
"We got a big upward correction in public spending - that was due, it has been very weak.
"On the private side we got an upside there but the construction industry is really just parallel to housing, which is really just bumping along the bottom of its cyclical range."