Banks rein in business overdrafts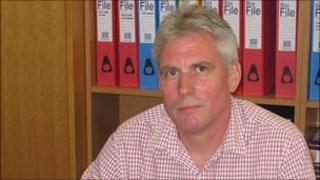 Are banks doing their job and lending enough cash to small and medium-sized businesses?
The government does not think so, hence its emerging plan to use public money to lend to some businesses directly, by buying corporate bonds.
When Gordon Way told us in September how his bank had threatened to run down his overdraft facility, it struck a chord with some other readers of the BBC News website.
Gordon has now sorted out his problem.
But some other businesses have told us how their banks just do not want to lend to them any more.
Adrian Parsons, Ventura Corporation, Wokingham, Berkshire
"RBS gave us one hell of a time; it was a very stressful process to go through," says Adrian.
He has been in business for more than 25 years, successfully importing and distributing sporting and household goods to High Street retailers.
When sales took a downturn three years ago, RBS saw his firm as a candidate for its "corporate recovery" procedures, even though Ventura was not insolvent.
The bank's new approach involved expensive special audits on Ventura's invoice discounting and stocks, and a dramatic cut in its overdraft facility from £2.1m to £700,000.
Adrian says that far from being helped to recover, this threatened to pull the rug from under his feet, and he felt as if he was being squeezed out by a bank that no longer wanted him.
Things became even worse when he told his bank manager that he was finally moving to another bank, the Clydesdale.
"They [RBS] pulled the rug entirely. They withdrew the overdraft overnight," Adrian says.
For the two months before the account transfer took place, RBS put more expensive loans in place of the overdraft, with some of them being charged at an interest rate of 25% a year.
"We thought it was opportunist and vindictive. We either had to bite the bullet and pay this money to RBS or the business would have suffered exponentially," says Adrian.
Ventura now has an overdraft of £2.4m with the Clydesdale and Adrian feels he has a supportive bank again.
But he says he never got a clear explanation about why, exactly, RBS had got cold feet.
"It's difficult to say whether it was an industry sector reason, or they simply had limited amounts to lend, or our deal was not particularly lucrative for them, and they were able to lend that money elsewhere and make more margin from it," Adrian says.
What does he think of his saga now?
"I am bitter at the way it went. It was completely unnecessary, we are vindicated as we were making a trading profit throughout," says Adrian.
Jim Douglas, Blackwater Manufacturing, Glenrothes, Fife
Jim Douglas's company makes specialised carbon steel pipe fittings for the gas industry.
With a staff of 10 he has been in business since 1988 and had banked with RBS since the start.
But two years ago the friendly approach of his local bank changed.
"We were introduced to a new manager and he wanted us out. We were encouraged to leave," says Jim.
"We had cycled regularly in and out of the red but never over our £250,000 limit [but] there was never any doubt as to our credit-worthiness."
RBS told Jim they wanted to replace Blackwater's overdraft, which had been charged at an interest rate of 3% over base rate, with a loan to be repaid in total over three years, and at 7% over base.
"This was not a commercial rate and we could get better elsewhere - we did not agree," Jim says.
RBS responded by reducing the overdraft limit by £5,000 a month.
Then, in December 2010, the bank gave Jim 28 days' notice of the complete withdrawal of the overdraft facility.
"I got to the stage where I couldn't speak to the manager because we were at loggerheads," says Jim.
RBS acknowledged there had been a breakdown in its relationship with its customer.
The bank explained that Blackwater had been showing signs of financial stress with its overdraft being used to its maximum.
But it denied it has any policy of squeezing out customers in trouble.
"It is in nobody's interests to see a business fail - as a responsible lender our priority is to spot problems early on and work with businesses to return them to a more stable position," said an RBS spokesman.
"One aspect of this is working with businesses to ensure their credit facilities are realistic and are not going to add to their problems.
"So far in 2011, of the 5,000 customers who have faced challenges and entered into difficulties, we have managed to help 4,000 back to health," RBS added.
Jim has now moved Blackwater's account to the Bank of Scotland and trades without an overdraft at all.
He relies instead on the positive cashflow between the money his customers pay and the credit his suppliers will give him.
"If it means we don't expand as fast, so be it," Jim says.
Gerry Price, pub and restaurant owner, West End, Bisley, Surrey
In Surrey, Gerry Price had a similar experience earlier this year, but with Barclays.
His businesses, the Inn@West End and a wine company, had two accounts with a combined overdraft facility of £75,000.
But shortly after building a wine shop next door to his pub, Barclays changed its approach.
It told him it wanted to convert half of Gerry's overdraft to a three-year loan at 10% interest, with the interest on the remaining overdraft shooting up from 3% over base rate to 9.75% over base.
That would have amounted to a significant withdrawal of his working capital.
"I was particularly annoyed having gone ahead with a capital project in difficult times, and having checked with them that nothing was going to change, and being reassured on that basis, then they were changed significantly," says Gerry.
Barclays told the BBC that it was this use of the overdraft facility as a loan that had prompted the bank's action.
"The overdraft had effectively been long-term borrowing for the past three years," said a bank spokesman.
"We review overdrafts on a regular basis and this one had not really been used as an overdraft, but as unsecured long-term borrowing without the normal security for us.
"We put forward a number of options and his decision was to repay the overdraft, we are very much open for business," the spokesman said.
Gerry has now used his savings to clear his bank borrowings and is about to move his accounts to Lloyds.
"I went to a business briefing for pubs and was told that if you haven't changed your bank in the last 18 months you were nuts because banks were offering free deals," he says.
Lloyds is offering the bait of free banking for 18 months, though Gerry has decided not to use an overdraft any more.
Even with Lloyds a new overdraft would be almost as restricted and expensive as with Barclays.
Gerry says the tightening of bank credit has made him very wary of being ambitious and expanding his business.
"It just emphasises what tight times we are in and how expensive money is going to be for considerable time," he says.
"If someone was trying to get into business I think it would stop it. I would think there are not many people who can afford to start up their own business now there are such restrictions," he adds.