Malaysia to raise retirement age up to 60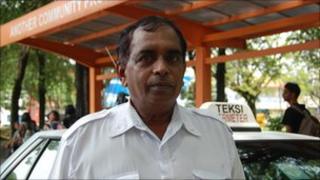 Sivananthan Mariappan had accumulated over $30,000 (£20,000) in savings by the time he reached retirement at age 55.
But after he paid off a housing loan and credit card debt, he was left with nothing.
So for six years, he has been driving a taxi in order to make ends meet in the bustling capital of Kuala Lumpur.
"I can hardly save more [given] what I'm earning at the moment," he says.
Mr Sivananthan is one of many Malaysians who cannot afford to retire.
The government has a mandatory retirement savings scheme for all Malaysians working in the private sector.
However, officials say most people drain their funds within the first five years of retirement.
This problem is compounded by the fact that the cost of living is rising.
Malaysia's central bank expects the inflation rate to hover between 3% and 3.5% this year.
A draft that would make this law is expected to be tabled in parliament by the end of the year.
While this is not nearly as high as in neighbouring countries, wages have not kept up with inflation.
The government has also recently cut back on its subsidies programme for staples such as cooking oil, flour, sugar and petrol.
This makes it hard for Malaysians to sustain their lifestyles in retirement.
Retaining workers
Unions have been pushing for the retirement age to be raised from 55 to 60 in the private sector.
Officials hope this would allow Malaysians more time to save up for their retirement.
The move is also expected to retain 500,000 people in the work force over a five-year period.
These are skilled workers that companies desperately need.
Naza group, which imports luxury cars, says they will benefit from the move as they have a tough time retaining young talent.
"The industry is very competitive," says the firm's joint group executive chairman, Nasarudin Nasimuddin.
The company already retains its retired staff on a contract basis so that they can help train new members.
Ramachenran Krishnan, 56, is one of the retirees who was recruited into the Naza group.
"So whoever offers the best package or benefits, the
After leaving another automotive company, he now works a full eight-hour day as the manager of the parts division at a dealership that is the sole importer and distributor of Peugeot vehicles.
Mr Ramachenran says he has no intention of stopping.
"It is a pity that my previous company did not actually extend me when I could have contributed more," he says.
"Fifty-five is not the correct retirement age. The experience comes with that age."
But in this tough economic climate, efforts to raise the retirement age has worried some potential graduates, such as Tee May Yan.
"If people can work longer, it will affect our job prospects," the 19-year-old design student says.
"It may prevent us from moving up in the company."
Others are not so pessimistic.
"Employers may want experience, but they still need fresh new ideas from young people," says Nur Liyana Mohamunny, 20.
Increased life expectancy
Raising the retirement age would also put Malaysia on par with its regional neighbours, where the average retirement age is 60 and above.
However, the move may not do much to boost savings.
Malaysians are living longer, with an average life expectancy of 74.
Even with the extra time to prepare, many people may still not be able to save up enough to last them for an extra 15 to 20 years.
It is a dilemma that Mr Sivananthan faces.
At 61, he has spent decades working in the hotel and property sectors.
It is looked down upon to drive a taxi, he says, but without any savings he has little choice.
Mr Sivananthan may be healthy enough to work 14-hour days now, but he dreads the day when he is forced to stop.