Wolseley returns to annual profit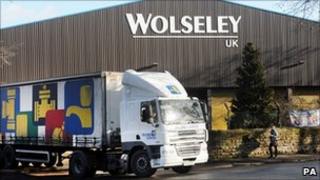 Building and heating materials group Wolseley has returned to a full-year profit in 2010-11.
The group suffered when the housing market was hit during the recession, but said it had focused on improving its "customer, product and vendor mix".
Wolseley reported a pre-tax profit of £391m in the year to July, compared with a £328m loss a year earlier.
It said markets were broadly stable but there had been "no strong rebound in activity after the recession".
Revenues rose 3% to £13.6bn.
The group also took a £39m charge on its Bathstore and BCG brands in the UK, "reflecting a deterioration in the outlook for retail markets".
It added that in the current environment, it remained cautious about its cost base.
"Recent economic forecasts have weakened, and over time this is likely to have an impact on our markets," said chief executive Ian Meakins.
The company has been selling off units as part of a disposal strategy over the past 18 months.
In July, it sold its French distribution division Brossette and British Build Center business to France's Saint-Gobain for £310m.