Ford strikes 'tentative' pay deal with UAW union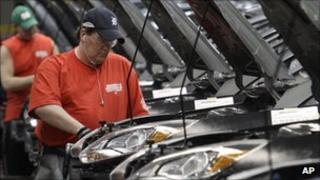 US carmaker, Ford, says it has agreed in principle to a four-year pay deal with the United Auto Workers union.
Ford says the settlement will make it more competitive in its home market.
Exact details are being withheld until the UAW's members have a chance to review the contract.
However Ford has already announced it plans to invest an additional $4.8bn (£3.1bn) in its US factories and to create 5,750 jobs by 2015.
It says the move will include transferring work to the US that is currently carried out in Mexico, China and Japan.
The pledge adds to the 7,000 new posts the firm previously promised to introduce by the end of 2012.
The UAW also revealed that workers are set to receive improved profit-share bonus payments.
Following GM
The announcement comes less than a week after the UAW secured a separate deal with Ford's rival, General Motors.
GM agreed to pay workers a $5,000 bonus for signing the agreement, an extra $1,000 a year to cover inflation and a further pay rise for entry level workers. Ford's agreement is expected to at least partly mirror these points.
UAW's president, Bob King, said the deals signal that "the American auto industry is on its way back".
A statement from the union notes that negotiations continue with the third biggest US carmaker, Chrysler.