Taiwan searches for new formula for economic success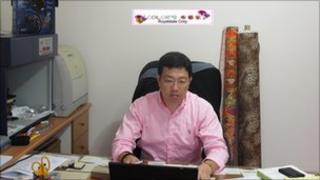 Denni Wang remembers well the hardest period in his 20 years of trading industrial fabric.
Taiwan had just joined the World Trade Organization in 2002 and textile businesses such as his were forced to compete with lower-cost countries like China.
"We didn't receive a single order in a month," says the 46-year-old, who had worked for years with his wife in their apartment, to keep costs down.
But his company Royalstate Corp never went bankrupt - and today it is bigger and better than before.
The secret, says Mr Wang, is the same for his firm as for Taiwan.
"We're constantly transforming ourselves," Mr Wang explains.
"Taiwanese businesspeople's brains change very fast. We switched to making fabrics China couldn't make."
'Taiwan miracle'
This willingness to change and a strong entrepreneurial spirit have helped Taiwan transform itself, despite its small population of only 23 million people.
In 1962, its economy was on par with that of Zaire and Congo.
Today, it is the world's 24th largest economy and Asia's sixth largest.
Its rapid industrialisation and growth during the latter half of the 20th Century is referred to as the "Taiwan miracle".
It has turned the island into a hi-tech powerhouse, making most of the world's laptops and much of its other consumer electronics.
The economy has grown by an average of about 8% during the past three decades and total trade last year reached an all-time high of $526bn (£341bn).
However, its heavy reliance on the tech sector - which makes up about 40% of its gross domestic product - makes it vulnerable to downturns in the global economy.
The island's exports plunged and its economy suffered its worst recession in years during the financial crisis in 2009.
Over the last five years, its growth has slowed to an average of 4%.
Analysts say it is time for Taiwan to find a new formula for success.
"It can no longer rely on making products cheaply in China and selling them to the US and Europe," says Tony Phoo, chief Taiwan-based economist for Standard Chartered Bank.
"There's going to be growing dominance from the emerging markets, in particular Asia, Latin America and also Africa.
"This definitely warrants a review of the current way in which Taiwan has managed to excel, at least in the last 15 to 20 years."
Growing competition
Taiwan also needs to quickly move up the production value ladder.
China has already caught up with countries such as Malaysia and Thailand in low-end manufacturing of home appliances.
Next to feel pressures from China's growing competitiveness will be the hi-tech manufacturers Taiwan and South Korea.
"The window of opportunity for Taiwan to transform itself and to reduce such a headwind and to differentiate itself from China is very pressing," says Mr Phoo.
"It could happen within five to 10 years. It's going to be very, very quick."
To stay strong, Taiwan must develop industries in which it can still outperform China or be cushioned from Chinese competition, such as tourism, medical, education and high-value agricultural services.
Taiwan's government seems to recognise the need for change.
It has identified six key industries to focus on in coming years, including biotech, tourism and green energy.
President Ma Ying-jeou is also pushing to remake Taiwan into a knowledge and innovation-based economy, in which the island creates more of its own global brands.
Other challenges
However, there are other challenges facing Taiwan.
Its rivals such as South Korea are reaching free-trade agreements with their trade partners - something Taiwan has not been able to do because of past tensions with China.
Taiwan also faces the lowest birth rate in the world and its population is ageing fast.
The government must also address the widening wealth gap, which is now the worst in history.
Because of these issues, some now question whether Taiwan can reach its goals of achieving another economic miracle.
President Ma had vowed when he ran for election in 2008 to raise economic growth to 6% annually, increase the per capita GDP to $30,000 and keep unemployment below 3%.
He has, however, acknowledged this month it has been difficult to reach those goals, given the impact from the uncertain global economy.
But textile trader Mr Wang remains optimistic that Taiwan can overcome these challenges.
He says that despite tough competition in the past decade, profits have remained stable.
He proudly boasts that Taiwan's sweat-resistant fabrics, which the mainland can't make, were used to make uniforms for teams that played in the football World Cup in South Africa last year - once again boosting the fame of the "Made in Taiwan" label.