European shares rise on eurozone bank rescue plan talk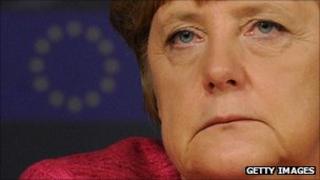 European stock markets ignored fresh warnings about Italy's ability to repay its debts by staging a strong rally.
Reports that European leaders are considering co-ordinated action to bolster banks sent European markets up 3%-5%, while Wall Street also rallied.
On Tuesday, Moody's cut Italy's credit rating by three notches and warned about the country's growth rate.
But investors focused on signs that the debt-laden banking system may soon be recapitalised by European authorities.
German support
In an interview in the Financial Times, Olli Rehn, European commissioner for economic affairs, said: "There is an increasingly shared view that we need a concerted, co-ordinated approach.
"There is a sense of urgency among ministers and we need to move on," he said.
German Chancellor Angela Merkel also said she favoured a pan-European recapitalisation programme if it proves necessary, and that she stood ready to help German banks absorb losses from a possible write-off of Greece's debts.
German support is seen as crucial for any such proposal to succeed.
Meanwhile, the International Monetary Fund (IMF) - which has also been calling for eurozone governments to bolster their banks - put the likely cost of such a programme at 200bn euros ($267bn; £173bn).
That would put it within the means of the eurozone's bailout fund - the European Financial Stability Facility (EFSF) - which is currently being augmented.
In an embarrassing gaffe, the IMF's Europe director, Antonio Borges, suggested in a press conference that the IMF itself may add its own money to the EFSF's.
But he later rushed out a statement retracting his comments, noting that the IMF lacked the legal authority for such a move, nor did the idea have the backing of the IMF's shareholders, which include the US government.
Banks rise
Signs that Europe's leaders were ready to act came on Tuesday when plans were announced to split struggling Franco-Belgian financial group Dexia into its "good" and "bad" banks.
This plan to ring-fence Dexia's toxic debts led to an initial 10% jump in the firm's share prices in early trading, but it ended the day only 1.4% higher.
Last Updated at 21 Feb 2018, 16:30 GMT
price
change
%
202.10 p

+

+1.05

+

+0.52
The problems at Dexia have further undermined the credibility of stress tests carried out earlier this year by European regulators to determine the resilience of the EU's banks - tests that Dexia comfortably passed.
Any recapitalisation programme may need to be preceded by a new round of stress tests, according to the BBC's business editor, Robert Peston, and would presumably consider the possibility of a significant write-off of Greek - and possibly other government - debts.
France's three big banks, which are also heavily exposed to Greece, rose sharply on stock markets, with Credit Agricole 9.9% higher at the close of trading.
Italy's biggest banks were up 5%-7%, while in London Barclays rose 7.7% and RBS was 5% higher.
The rally, which began as a late surge on Wall Street on Tuesday night, continued into US trading hours on Wednesday.
By the close of trading in New York, the Dow Jones was up a further 1.2%, with tech and media stocks taking the lead, while the Nasdaq rose 2.3%.