US services sector 'sheds jobs', survey suggests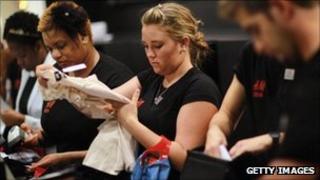 Employment in the US non-manufacturing sectors may have fallen in September, a survey has suggested, although output growth remained steady.
The ISM non-manufacturing index, which tracks services and construction sector activity, fell to 53 from 53.3 in August. Levels above 50 imply growth.
But the survey's employment sub-index dropped to 48.7, indicating job losses for the first time in 12 months.
However, separate data suggested the US private sector was still adding jobs.
The ADP jobs report, which is compiled each month by a major US outsourcing firm, registered 91,000 new private sector jobs across the US economy as a whole in September, somewhat ahead of market expectations.
The bulk of those new jobs, according to the report, were in the service sector - which accounts for about 80% of all jobs in the US.
The clear discrepancy with the non-manufacturing sector survey conducted by the Institute of Supply Management may point to a jump in government-sector job losses, which would be included in the ISM index, but not in the ADP report.
"The most significant thing is the employment index which fell," said Anthony Nieves, chair of the ISM's survey committee.
"This is a very tell-tale sign for non-manufacturing, given how labor intensive this sector is. The drop in the employment index reflects the prevailing sentiment in the business community which is one of caution, hesitation and uncertainty."
Meanwhile a third report, by consultancy Challenger, Gray and Christmas, calculated that nearly 116,000 job cuts were announced last month - the highest rate since April 2009 - thanks largely to layoffs by Bank of America and the US military.
Official US jobs data for September is due to be released on Friday by the US Department of Labor, and is expected to show an increase of 60,000 jobs for the US economy as a whole.