Lone Star fined $20.9m and its former boss jailed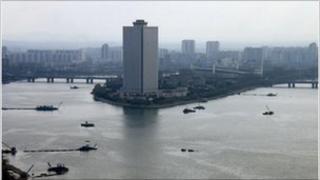 A South Korean court has fined US buyout fund Lone Star $20.9m (£13.4m; 15.6m euros) and jailed its former Seoul chief for stock price-fixing.
The decision by the Seoul High Court overturned a 2008 acquittal in the long-running case.
It had temporarily halted Lone Star's efforts to sell its 51% stake in Korea Exchange Bank (KEB).
Lone Star bought the stake in KEB for $1.2 billion in 2003 and later merged it with KEB's credit card business.
Spread rumours
It was alleged Paul Yoo, who ran the firm's South Korean division, deliberately spread rumours that KEB Credit Services might reduce its capital and issue new shares, to reduce the price of a merger.
Yoo has been jailed for three years.
Lone Star has reached an agreement to sell its KEB stake to Hana Financial Group in a deal originally assessed to be worth $4bn. But the deal was put on hold awaiting the outcome of the court ruling.
The conviction, according to Seoul's Financial Services Commission, said Lone Star was likely to be judged unfit to be the majority owner of KEB.
The court case had thwarted Lone Star's attempt to sell KEB to Kookmin Bank in 2006 and to HSBC Holdings in 2008.
Public discord and the US buyout firm's legal woes have dissuaded foreign investors from acquiring Korean companies, said Henry Seggerman, president of New York-based International Investment Advisers.