Trading in Dexia shares suspended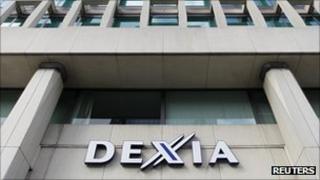 Trading of shares in Dexia has been halted by the Euronext stock exchange.
The stop was requested by the Belgian regulator until the troubled Franco-Belgian bank could provide details of a planned sale of its Luxembourg unit.
Its shares had fallen 17.3% during the day up until trading was suspended.
Meanwhile, the French and Belgian governments are negotiating a break-up of the bank - and how to share the cost of rescuing it between them - with a decision expected before the weekend.
Qataris
Dexia has confirmed it is in "exclusive negotiations" with a group of international investors to dispose of Dexia Banque Internationale a Luxembourg (BIL).
The subsidiary employs about 5,500 staff worldwide, 3,700 of whom are based in Luxembourg.
It runs a 40-branch retail network in the country, as well as offering private banking and asset management services.
The key buyer is reported to be the Qatari Investment Authority, the country's sovereign wealth fund.
Reports say it may pay 900m euros ($1.2bn, £785m) for control of the Dexia unit.
It follows an announcement in August that the Qataris were to become a major shareholder in the merger of two Greek lenders, Alpha Bank and EFG Eurobank.
The government of Luxembourg is also in talks to buy a minority stake. The country's finance minister, Luc Frieden, said he expects discussions to be completed by the end of the month.
Break-up
Dexia is facing its second rescue in three years because of the eurozone debt crisis.
The firm has 3.4bn euros ($4.5bn, £2.9bn) of exposure to Greek government bonds, and about four times that amount to Italian sovereign debt.
Ratings agency Moody's put the lender on review for a credit score downgrade on Monday. It said the bank was finding it harder to borrow from the markets.
The news led to a sell-off of Dexia's shares, prompting France and Belgium to announce they would prevent its collapse.
The governments are expected to pool its most risky assets into a "bad bank" and force it to sell off units that provide vital services, including a French division that specialises in lending to local authorities.
Belgium's Prime Minister said the burden must be divided fairly.
Yves Leterme told RTL radio: "This is a very sensitive and crucial part of the negotiations, an equitable split of the costs."
The two countries are expected to finalise the plan before the weekend.
Dexia's board says it intends to meet in Paris on Saturday to vote on the break-up.