Airbus workers strike at four German plants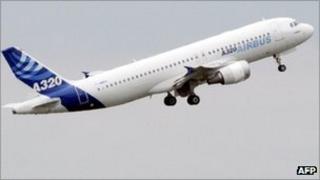 Thousands of Airbus workers have staged walkouts in Germany in an action organised by the IG Metall union.
The dispute follows the planemaker's call for productivity gains in return for job guarantees. The two sides were unable to agree terms after 18 months of talks.
The strikes involved four assembly plants in Hamburg, Bremen, Stade and Buxtehude.
Work on Airbus' A320 single aisle jet and other aircraft was affected.
IG Metall says 11,000 workers took part in the protests.
Airbus disputes that number, saying that police figures suggest 4,000 staff were involved. It says the stoppages lasted 90 minutes.
Negotiations
IG Metall says it is willing to offer a 2% annual productivity gain between now and 2020. It says that would save the firm more than 1bn euros ($1.3bn; £865m) a year.
Airbus says it calculates the numbers differently. It says the exact figures should only be discussed at the negotiating table.
"What other industry would give job security for more than nine years?" said Airbus spokesman, Florian Seidel.
"In return we want to make sure that Airbus' German sites are productive and stay that way."
However, until the dispute is resolved the firm says it cannot guarantee jobs will not be transferred elsewhere.