German exporters shrug off crisis as shipments rise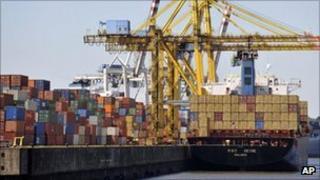 German exports rose in August for the first time in three months.
Shipments grew 3.5% over the month, according to seasonally adjusted data from the Federal Statistics Office.
About 90.5bn euros ($122.9bn, £78.5bn) of goods were exported. Imports were unchanged at 76.7bn euros.
Recent surveys suggest the eurozone debt crisis is damaging German business confidence. However, Germany exports most of its goods outside the single currency bloc, limiting its impact.
The monthly rise was more than three times the figure predicted by economists who took part in a Bloomberg survey.
The previous month's drop was also revised. July's shipments fell by 1.2% month-on-month, rather the 1.8% decline originally reported.
"Today's numbers prove yet again that Germany is faring better than the rest of the eurozone thanks to its high competitiveness," said Commerzbank economist Ulrike Rondorf.
"However, Germany will not be able to decouple from a sluggish global economy on a permanent basis," he said.
Industrial orders data, released earlier this month, suggests some manufacturers may still struggle. Factories reported a bigger-than-expected 1.4% drop in orders in August.
At the time, Germany's economy ministry blamed a drop-off in domestic demand, which would not have shown up in the latest trade data.